Detect-All
Sewer pipe inspection, cleaning, and trenchless no-dig repair within Atlantic Canada.
Contact Us
Detect-All provides remote inspection services including: sewer and pipe inspection, cleaning, and trenchless no-dig repair. Also underground utility locating, on-site septic system inspections and locating. Markets served: federal, provincial, municipal, industrial, commercial, and residential throughout Nova Scotia, New Brunswick, and P.E.I.
Services Provided
‣ Stormwater Inflow Reduction Assessments
‣ Remote Camera Inspections (from 2″ to 96″ pipes)
‣ Chimney and Breech Pipe Inspections
‣ Wall and Floor Void Inspections
‣ Bridge Column Inspections
‣ Tank Inspections
‣ Sewer Pipe and Lining – Cured in Place (CIPP) Structural Spot Repairs
‣ Culvert Repairs
‣ Pipe Reaming
‣ High Pressure Cleaning and Flushing (from 2″ to 96″ pipes)
‣ Hydro Excavation
‣ Smoke Testing
‣ Pressure Testing
‣ Manhole to Manhole Re-lining
‣ Robotic Cutting (Protruding Laterals)
‣ Septic Tank Locating
‣ On-Site Septic Inspections

We've now added Hurco as another line of utility products to our family. We are the sole distributor Hurco products in Atlantic Canada. We are pleased to represent and distribute Hurco products.
Featured Hathorn Products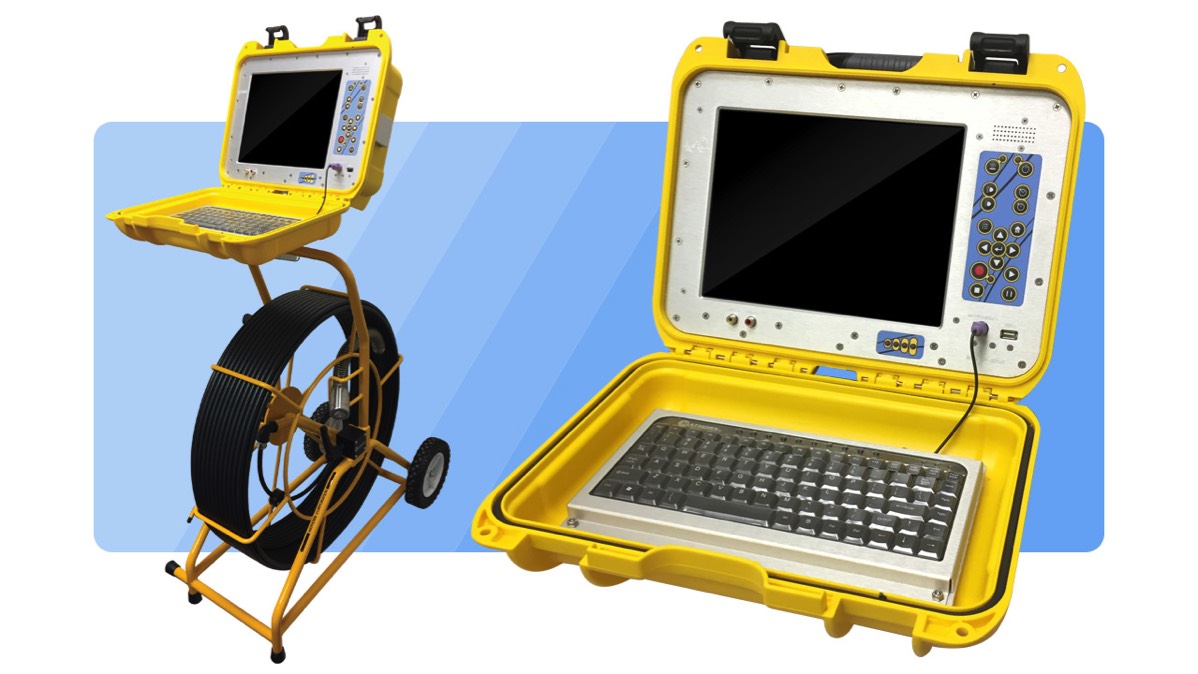 Magnum M12 Controller
The Magnum M12 Controller has the largest and brightest monitor in the industry. Its stunning picture quality and high contrast reveal images like no other. See what you have been missing!
Product Details:
Audio and Video Out Jacks
12″ Daylight Readable Monitor
Click Touch Controls
Record to USB Drive
One Touch Recording with Pause Key
Mpeg Format
16 Pages of Text Writing with Memory Saves
On Screen Footage Counter
Adjustable Lighting Controls
Voice Over Recording (Built In)
Rename Files on Stick After Recorded
512Hz Sonde
Lithium Ion battery
Low battery alarm
Battery level indicator
Works with Most Hathorn Reels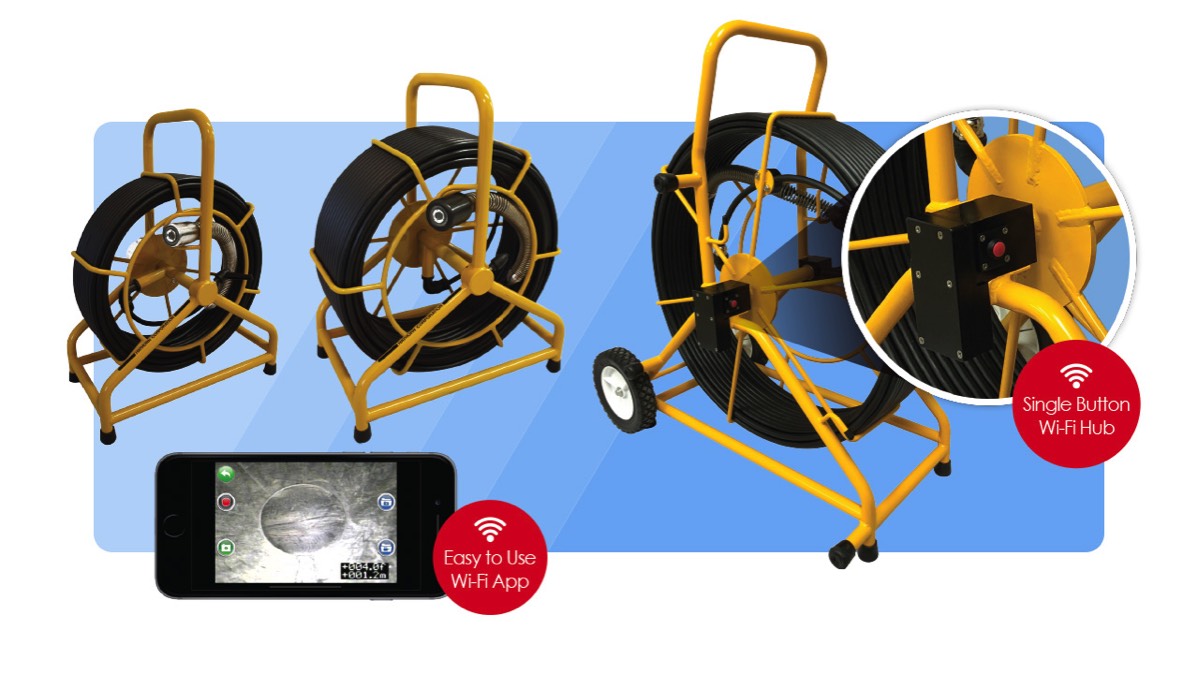 Wi-Fi Reels - Go Wireless!
Now with Wi-Fi reels you can complete inspections without the use of a traditional monitor. The Wi-Fi reels send a wireless WIFI signal directly to your mobile device in high definition video that can then be recorded and saved in your photo folder. Once the video is selected it can then be sent via text, email, airdrop, Facebook, Cloud, etc. The possibilities are endless. Multiple reel sizes, pushrod diameters and camera heads are available.
Product Details:
Monitor free reels, NO cords, NO heavy monitor cases, NO screens to damage.
Easy wireless video transfer from reel to mobile device.
On screen resettable footage counter.
512Hz powerful SONDE transmitter.
Auto iris camera element automatically adjusts picture lighting.
Connect multiple devices at once.
Record in high compressed video, easily manage video files and snapshot pictures, files can be air-dropped, texted, emailed, etc.
Videos and pictures are saved right in your picture app.
Downloadable Wi-Fi App.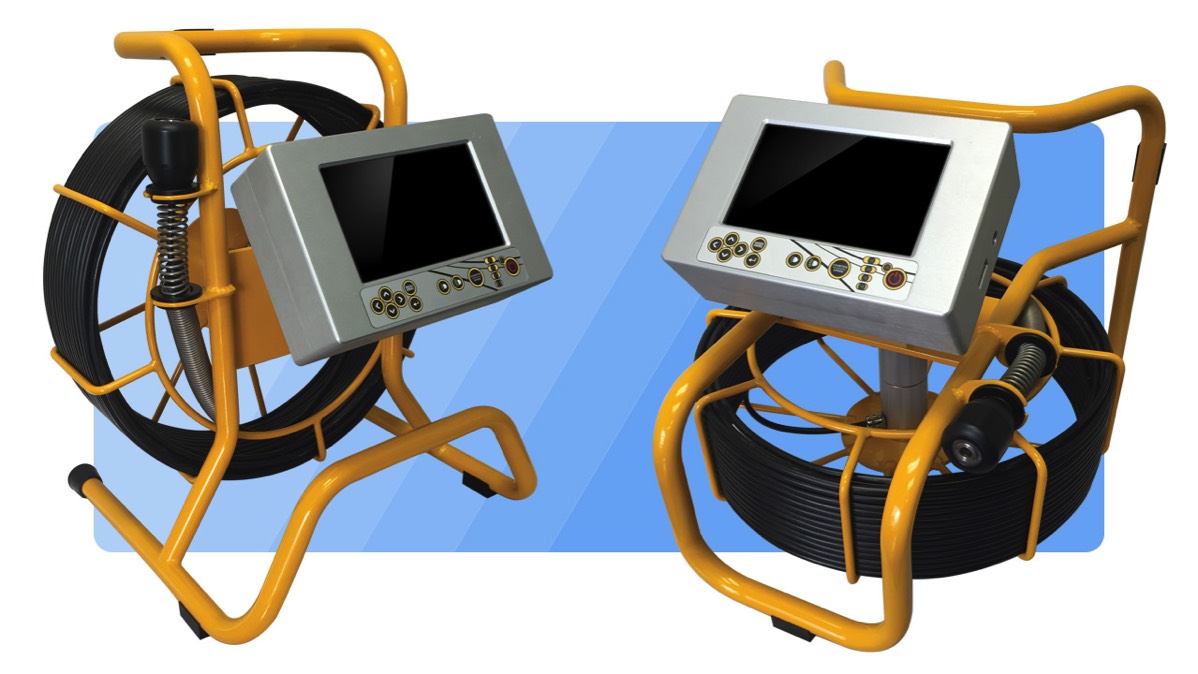 Portable System
The Portable camera system from Hathorn Corporation has everything you need in a small compact frame, is light weight and easy to use. Standard features include a 7.4″ daylight readable monitor, Wi-Fi video transfer to any mobile device, 125 feet of push rod, text writer and footage counter. 512Hz Sonde transmitter, rechargeable battery pack, adjustable lighting and more. Optional features include self levelling camera heads, USB recording and adjustable sun shield / monitor cover.
Product Details:
Compact and light weight (29lbs)
Vertical or Horizontal operation
Wi-Fi transmitter to record to mobile device
Adjustable drum brake
125 feet Kevlar braided rigid push rod
Removable machined aluminum control center
Click touch buttons
7.4″ day light readable monitor with acrylic cover
Integrated text writer with storable codes
Adjustable lighting
On screen footage counter
512Hz Sonde transmitter
Navigates 2″ to 4″ pipe sizes
Lithium Ion battery pack
Battery level indicator
Low battery alarm
Optional Features:
USB recording device
Self leveling camera head
Sun shield monitor guard
To schedule a service or ask us questions, get in touch today!