Cured in Place Pipe (CIPP)
CIPP repairs broken, cracked or damaged house sewer, commercial building, or municipal sewer pipe, and prevents infiltration, exfiltration, and tree root growth.  It prevents pipes from collapsing, and replaces the old pipe.  CIPP can be used for full length pipe, pipe sections, or spot repairs from 2″ to 60″ diameter. It is installed as a liner in an existing pipe and cured by the application of steam heat – fastest cure in the industry.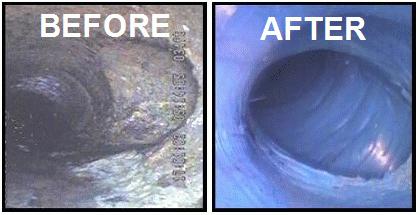 Stainless Steel Links
Stainless steel sleeves are coupled together to create a continuous liner of a specified length. Individual links are coupled together and are pulled through the host pipe by a cable from the opening at the far end of the host pipe. A specially formulated cement grout is then pumped to fill the annular space between the host pipe and the continuous stainless steel liner. The grout flows into all cracks and joints, joining together the liner and all old pipe sections into a solid and unified structure.

To schedule a service or ask us questions, get in touch today!